Picturing Moral Courage: The Rescuers
NGO PROOF's exhibition in Sarajevo, Bosnia-Herzegovina, includes photographs and text to document the stories of upstanders during the genocide in the Balkans.
They come from different Regions and different times: Central Europe, Rwanda, Cambodia, and Bosnia and Herzegovina.
For many, this is the first time they have told their stories. Some risked their lives again in the telling.
The people you will see and read about in "Picturing Moral Courage: The Rescuers" exhibition represent all walks of life. They are farmers, taxi drivers, nuns, mothers, fathers. Why did they, amongst all the other members of their communities, risk everything to save neighbors, friends, and strangers?
This exhibit is designed to raise awareness of the need to stand up against injustices that are still happening in the world around us in order to promote peace. We hope these provocative stories will inspire viewers to think about the courageous choices that can be made every day, and become "rescuers" in their own communities wherever injustice exists.
We invite you to "hear" these testimonies with empathy and to connect to the hero within yourself.
Click here to read an introduction to the Rescuers exhibit by Roméo A. Dallaire, a retired Canadian lieutenant-general and senator.
An exhibition brochure is available below.
Hire the exhibition
Picturing Moral Courage: The Rescuers is available for hire.
The exhibit comes as plexiglass panels or as large-scale, stand-alone boxes.
To obtain additional information about hiring the exhibit, to receive the full specifications, or to speak to us about arranging accompanying education programs, contact us today.
Read some of the rescuers' testimonies by clicking on the book below (in English and Khmer).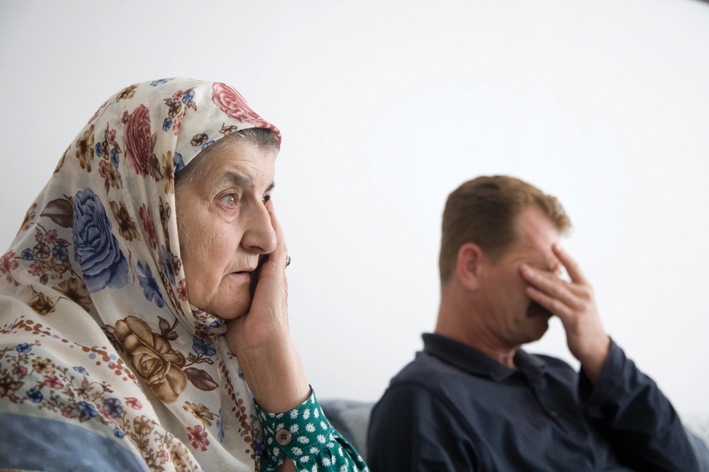 About the Photographers
Riccardo Gangale | Rwanda
Riccardo Gangale was born in Rome in 1975. After completing scientific studies and two years of political science, he joined a three-year master course in professional photography in Rome. In 2002 while still studying, Riccardo traveled to Ethiopia to work for Food for the Cities program of the Food and Agriculture Organization of the U.N. In the fall of 2002, he worked in South Africa for a project on landless people as well as with the World Summit on Sustainable Development.
Since September 2003, Riccardo has been working for the Associated Press as a correspondent in the Great Lakes region of Africa and has been living in Kigali, Rwanda, ever since. The New York Times, Time Magazine, The Times, The Guardian, The Guardian Weekly, Liberation, Der Spiegel, Le Monde, The Washington Post, and others have published some of his works.
http://www.riccardogangale.com
Paul Lowe | Bosnia and Herzegovina
Paul Lowe is a senior lecturer in photography at the University of the Arts London and an award-winning photographer living and working between Sarajevo and London. His work is represented by Panos Pictures and has appeared in Time, Newsweek, Life, The Sunday Times Magazine, The Observer, and The Independent among others. He has covered news from all over the world, including the fall of the Berlin Wall, Nelson Mandela's release, the conflict in the former Yugoslavia, and the destruction of Grozny.
Since 2004, Paul has been the course leader of the Masters Programme in Photojournalism and Documentary Photography at the London College of Communication. His book, "Bosnians," documenting 10 years of the war and post-war situation in Bosnia, was published in April 2005.
http://www.lightstalkers.org/paullowe
Sonia Folkmann | Holocaust
Sonia Folkmann was born in Poland in 1975, and at the age of 13, she and her family moved to Düsseldorf, Germany. After she completed a one-year internship at a photographic studio, she fell so deeply in love with the art of photography that she decided to get a professional education in photography. After graduating from art school as the top student, she worked several years with different photographers all over the world.
Since 2006, Sonia has been working as a freelance photographer and pursues her own projects, including fine art series, reportage, and design books. In 2009 and 2010, she won, in collaboration with New Cat Orange Agency, the Red Dot Design Award in the category Best of the Best. Her love of photography gives her the chance to live her dream.
Nicolas Axelrod | Cambodia
Nicolas Axelrod has been based in South East Asia since 2008. An Australian, he moved to Cambodia after living and working in Perth, Western Australia, as a freelance photographer as well as for a Perth-based commercial photography agency. Now living in Phnom Penh, he works as a freelance photographer. He has also worked for various NGOs, local and international magazines, and private clients in Cambodia.
Travelogue
February 2015
University of Dayton, Ohio
March 28 - August 31, 2014
Holocaust Museum Houston
March 2014
Jewish Alumni Center (March 2014)
Nov 18 - Dec 10, 2013
Center for the Study of Gender and
Conflict (CGC, George Mason University, Arlington Campus)
August 15 - 30, 2013
Trebinje, Bosnia & Herzegovina
July 30 - August 15, 2013
Mostar, Bosnia & Herzegovina
July 15 - 30, 2013
Siroki Brijeg, Bosnia & Herzegovina
June 30 - July 15, 2013
Srebrenica, Bosnia & Herzegovina
June 15 - 30, 2013
Bijeljina, Bosnia & Herzegovina
June 1 - 15, 2013
Brcko, Bosnia & Herzegovina
March - April, 2013
University of North Dakota, Grand Forks, North Dakota
Nov - Dec, 2012
Indiana University, Bloomington, Indiana
July 2012
Jewish Holocaust Centre, Melbourne, Australia
April 2012
Raritan Valley Community College, Branchburg, New Jersey
March 2012
University of Massachusetts, Amherst, Massachusetts
March 2012
University of Nebraska, Kearney, Nebraska
December 2011
International Conference on Transitional Justice, Geneva, Switzerland
Oct - Nov, 2011
Meta House, Cambodia
October 2011
San Diego State University, San Diego, California
October 2011
School of International Training, Brattleboro, Vermont
October 2011
Putney School and Riveredge, Vermont
July 2011
Opening of the Rescuers exhibit in Sarajevo, Bosnia
Stories of Courage
Get to know more about the rescuers in our exhibit by reading their stories of courage.
The Rescuers:
In Cambodia 2013
PROOF's partner organization, Youth for Peace, has been traveling around Cambodia with "The Rescuers." Check out the photos below, or click here to view the full gallery.